Have you ever wanted to run some of your favorite android apps or games on your computer ? Having played games like Asphalt, Temple Run, Candy Crush or Subway Surfers, do you sometimes wish to have played it on a larger screen ? Its quite possible through ways like android emulators or Android to PC ports like Androidx86.
Advantages
The advantages of doing so, are numerous. Firstly you get the fun of playing it on a bigger monitor and with speakers connected, it can be an exhilarating experience. Secondly, if you are fond of playing large, high graphics games, it can save you, your precious gigabytes of phone memory.
Running apps on your Computer
There are three ways in which this can be done.
Using Android Emulators
Using a Virtual Machine (VM) software like VMware or VirtualBox
Dual Booting your PC with an Android Operating System based on the Androidx86 project (Yes, that can be done  ;-)…)
In this article, I am going to show you how you can use an android emulator to install your apps on PC. Advantage of running an android emulator, is that you just have to click on the setup, click next repeatedly and BOOM. Its done. For others (geeks), who are willing to go further, can read about the VM method here. For the last method, read my article on how to dual boot Windows and Linux. The steps should be similar for Android operating systems.
Android Emulators
You might have heard about Bluestacks sometime back, who made the news as being the platform where you can run Android Games. Yes, its an emulator. But it is certainly not the only one. Here, are am going to review some the best known android emulators out there.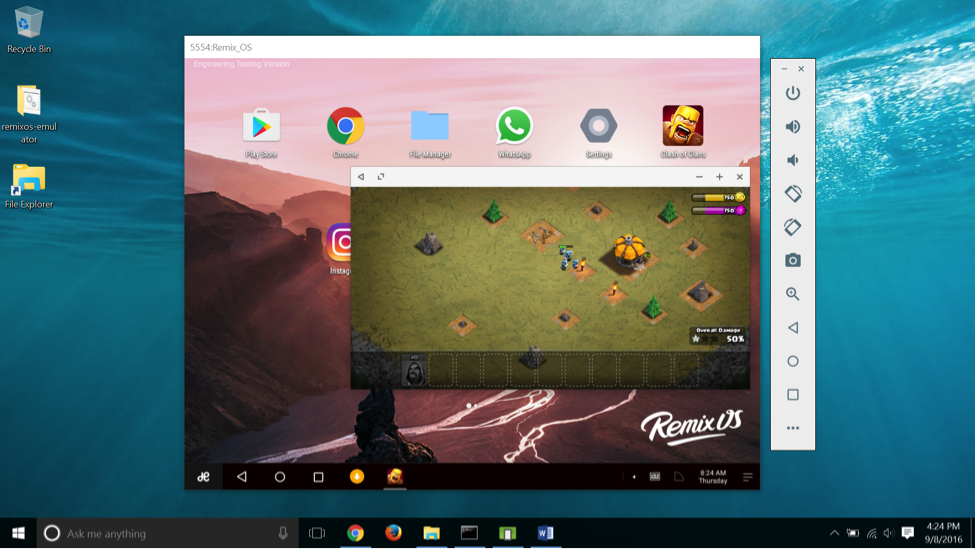 Jide, the company behind Remix OS (Read about it in my dual boot method article) also released the "Remix OS Player" which is an android emulator and can be installed on Windows. Unlike other rivals, Remix OS player runs on Android Marshmallow.
Remix OS Player is robust and lets you play high-end Android games on your PC. It's free and caters to gamers and normal users alike. It actually functions like an operating system within Windows. It has support for keyboard and mouse. There is a home button and a taskbar (similar to start button and taskbar in Windows). Also there is a Windows 10 styled notification panel. Overall the experience is quite similar to Windows.
It's not perfect, but none of the others are as close to being complete as RemixOS. Unfortunately it doesn't support AMD CPUs and also it has been discontinued; the last release was in November 2016.
If you want to get your apps and games working with the minimum of effort, BlueStacks should be your choice. The BlueStacks App Player actually runs a full (heavily modified) version of Android. It has the Play Store built-in, so you have instant access to all of your purchased content. It mimics an Android device. The main screen in BlueStacks with the app categories, is just a custom home screen which can be easily replaced by any launcher app from the Play Store.
Bluestacks is the most popular of all Android emulators. The main reason for this is that it was one of the first emulators that worked reasonably well and also ran on both Windows and Mac. The newest Bluestacks, dubbed Bluestacks 3, came out in 2017. It has the ability to launch multiple instances so you can play multiple games at once (or the same game multiple times). It also includes keymapping and settings for many games installed. It's targetted mainly towards gamers and so it's not as good for people seeking productivity. Bluestacks is the most up-to-date Android emulator for PC that is currently available, since it has a new beta version based on Nougat.
Nox is another Android emulator for PC for gamers. It includes utilities and additions that are specifically catered to helping gamers. You'll be able to do things like play with an actual controller. This includes things like the capacity to assign "swipe right" to, say, an arrow key and simulate actual gesture movements directly on your keyboard or joystick if you have one. It's a lot of fun and seems to work rather well most of the time. It's also entirely free.

ARChon is unique in the sense that it isn't a traditional emulator. You have to install it as an extension inside Google Chrome. It then gives Chrome the ability to run Android apps. So, it is compatible with any operating system that can run the Chrome browser. We have to obtain APKs and load them in. You also may need to use a tool to change the APK in order to make it compatible. You can read about it here.
This Android emulator is mostly for developers. It lets you test your apps on a variety of devices without owning them. You can configure the emulator for a variety of devices with various versions of Android to help suit your needs. For instance, you can run a Nexus One with Android 4.2 or a Nexus 6 with Android 6.0. You can easily switch between "devices" at will. It's not great for consumer uses, but Genymotion does offer their services for free for personal use.
One popular way to get Android apps running on a PC is to install the Android emulator released by Google as part of the official Android Studio. The emulator is used to create virtual devices running any version of Android you want with different resolutions and hardware configurations. It is the somewhat a complicated setup process.
Google provides the official Android emulator as part of the Android SDK. You can use it to run the Android operating system in a window on your existing computer. It's intended for developers to test their Android apps. Unfortunately, the official Android emulator is rather slow and isn't a good option for everyday use. It's useful if you want to test apps or play with the latest version of Android, but you wouldn't want to actually use apps or play games in it.
I'll conclude by sying that, Android Emulators are not the only way, you can even install Android OS ports which simulate an actual Android Operating System.
Wanna write for Savvydroid? or have some queries? Feel free to contact us. Join our WhatsApp Group for regular doses of our quality news and reviews.